Silvia Givens
The British Are Coming: The War for America, Lexington to Princeton, 1775-1777
Rick Atkinson
"Rick Atkinson, author of the Pulitzer Prize-winning An Army at Dawn and two other superb books about World War II, has long been admired for his deeply researched, stunningly vivid narrative histories. Now he turns his attention to a new war, and in the initial volume of the Revolution Trilogy he recounts the first twenty-one months of America's violent war for independence."
Danny Givens
Why Did Jesus, Moses, the Buddha, and Mohammed Cross the Road? Christian Identity in a Multi-Faith World
Brian McLaren
"In this provocative and inspiring book, author Brian McLaren tackles some of the hardest questions around the issue of interfaith relations, and shares a hopeful vision of the reconciliation that Jesus offers to our multi-faith world."
Sarah M. (Givens)
The Poison Thread
Laura Purcell
"When Dorothea's charitable work brings her to Oakgate Prison, she is delighted by the chance to explore her fascination with phrenology and test her hypothesis that the shape of a person's skull can cast a light on their darkest crimes. But when she meets one of the prisoners, the teenaged seamstress Ruth, she is faced with another strange idea: that it is possible to kill with a needle and thread--because Ruth attributes her crimes to a supernatural power inherent in her stitches.
The story Ruth has to tell of her deadly creations--of bitterness and betrayal, of death and dresses--will shake Dorothea's belief in rationality, and the power of redemption. Can Ruth be trusted? Is she mad, or a murderer? The Poison Thread is a spine-tingling, sinister read about the evil that lurks behind the facade of innocence."
Alex
Ancillary Justice
Ann Leckie
"On a remote, icy planet, the soldier known as Breq is drawing closer to completing her quest. Once, she was the Justice of Toren - a colossal starship with an artificial intelligence linking thousands of soldiers in the service of the Radch, the empire that conquered the galaxy. Now, an act of treachery has ripped it all away, leaving her with one fragile human body, unanswered questions, and a burning desire for vengeance."
Angie
What Doesn't Kill You Makes You Blacker: A Memoir in Essays
Damon Young
"From one of our most respected cultural observers, What Doesn't Kill You Makes You Blacker is a hilarious and honest debut that is both a celebration of the idiosyncrasies and distinctions of Blackness and a critique of white supremacy and how we define masculinity."
Desirée
Furious Hours: Murder, Fraud and the Last Trial of Harper Lee
Casey Cep
"The stunning story of an Alabama serial killer and the true-crime book that Harper Lee worked on obsessively in the years after To Kill a Mockingbird.
Reverend Willie Maxwell was a rural preacher accused of murdering five of his family members for insurance money in the 1970s. With the help of a savvy lawyer, he escaped justice for years until a relative shot him dead at the funeral of his last victim. Despite hundreds of witnesses, Maxwell's murderer was acquitted–thanks to the same attorney who had previously defended the Reverend. Sitting in the audience during the vigilante's trial was Harper Lee."
Jenny
I Let You Go
Clare Mackintosh
"In a split second, Jenna Gray's world descends into a nightmare. Her only hope of moving on is to walk away from everything she knows to start afresh. Desperate to escape, Jenna moves to a remote cottage on the Welsh coast, but she is haunted by her fears, her grief and her memories of a cruel November night that changed her life forever.
Slowly, Jenna begins to glimpse the potential for happiness in her future. But her past is about to catch up with her, and the consequences will be devastating . ."
Kim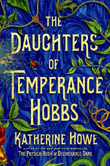 The Daughters of Temperance Hobbs
Katherine Howe
"New York Times bestselling author Katherine Howe returns to the world of The Physick Book of Deliverance Dane with a bewitching story of a New England history professor who must race against time to free her family from a curse.
Flashing back through American history to the lives of certain supernaturally gifted women, The Daughters of Temperance Hobbs affectingly reveals not only the special bond that unites one particular matriarchal line, but also explores the many challenges to women's survival across the decades—and the risks some women are forced to take to protect what they love most."
Sara Ellen
A Bend in the Stars
Rachel Barenbaum
"For fans of All the Light We Cannot See and The Women in the Castle comes a riveting literary novel that is at once an epic love story and a heart-pounding journey across WWI-era Russia, about an ambitious young doctor and her scientist brother in a race against Einstein to solve one of the greatest mysteries of the universe."
September
Gödel, Escher, Bach: an Eternal Golden Braid
Douglas R. Hofstadter
"Douglas Hofstadter's book is concerned directly with the nature of "maps" or links between formal systems. However, according to Hofstadter, the formal system that underlies all mental activity transcends the system that supports it. If life can grow out of the formal chemical substrate of the cell, if consciousness can emerge out of a formal system of firing neurons, then so too will computers attain human intelligence. Gödel, Escher, Bach is a wonderful exploration of fascinating ideas at the heart of cognitive science: meaning, reduction, recursion, and much more."
Zahna
The Castle Cross the Magnet Carter
Kia Corthron
"The hotly anticipated first novel by lauded playwright and The Wire TV writer Kia Corthron, The Castle Cross the Magnet Carter sweeps American history from 1941 to the twenty-first century through the lives of four men--two white brothers from rural Alabama, and two black brothers from small-town Maryland--whose journey culminates in an explosive and devastating encounter between the two families."